Irish Terrier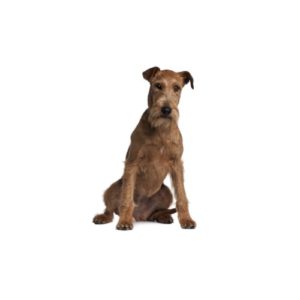 The Irish Terrier sports a beautiful red coat, an alert expression, and a trim outline with piercing eyes that reflect a rare intelligence. He is a gallant picture of authentic terrier type and character. The breed is good-tempered, spirited, and game. The breed's coat is short and wiry in texture.
History
His origin has been much debated, but there is indisputable evidence that he is one of the oldest of the terrier breeds. Early Irish Terriers came in a variety of colors, including black and tan, gray, and brindle. It was only near the end of the 19th century that the solid red color becomes a fixture of the breed. In World War I the Irish Terrier was used as a messenger and sentinel.
Temperament
The Irish Terrier is a smart, quick dog that quickly adapts to new situations. He'll guard his home and family members with determination and pluck. This breed is great with children when raised with them and is deeply loyal to his owner. Pups require firm boundaries so they will grow into respectful adults.
Terrier Group; AKC recognized in 1885.
Average size: 18 inches tall at the shoulder and approximately 25-27 pounds.
Vermin hunter; farm dog.
Environment
Apartment is ok.
Low activity indoors.
Exercise
Daily moderate to extended exercise.
Grooming
Brush regularly.
Bathe only when necessary.
VIEW AVAILABLE PUPPIES
---
Are you interested in purchasing a Irish Terrier?
-->